Tyler's Original Room Escape Adventure
On Wednesdays, Thursdays, and Fridays during the summer, we are running a summer sale that is only $15 per person. No promo code is required for the summer sale, just book your time.
For a promo code to used on the other days, click the "promo" button!
(The summer sale cannot be combined with other promotions. If you enter a promo code, the summer sale will no longer be applied to your booking.)
Real life escape rooms are a type of physical adventure activity where you use clues, hints and teamwork to escape the room before time expires. Escape room games have grown massively in popularity over the past few years and One Way Out - TylerEscape.com opened in the summer of 2015 as Tyler's original room escape experience!
Why visit an escape room?
If you are a fan of puzzles and having fun, then you should try this activity. Our guests have given us multiple awards with Locals Love Us. We are also the number one rated escape room in Tyler on TripAdvisor and received the TripAdvisor Certificate of Excellence in 2017!
But don't take our word for it...check out what our guests have actually said about Tyler's original room escape adventure.
No special skills are required!
Just be creative, curious, and observant.
Read About The Best Escape Rooms in East Texas!
Plan Your Next Special Event with One Way Out - TylerEscape.com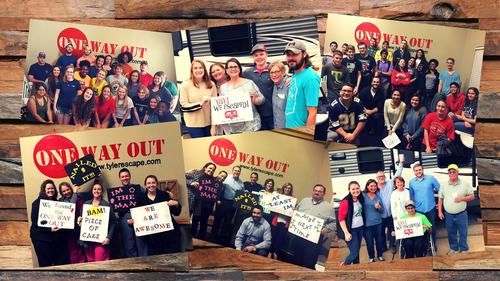 Team Building with Escape Rooms
Celebrating with Escape Rooms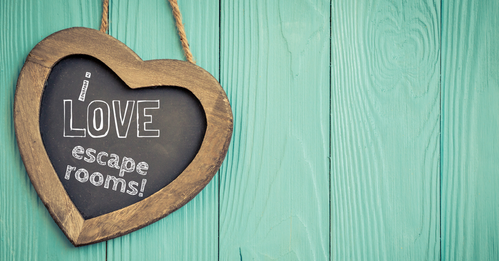 Buy or Redeem Escape Room Gift Cards
Tyler's Original Escape Rooms Partnered With The REALity Show!
We are excited to announce that we welcomed David Shelton from The REALity Show to One Way Out - TylerEscape.com on Saturday, March 24. On The REALity Show, Shelton shares some of his hilarious life stories along with challenges, food, pranks and the occasional random character. Watch the Live Show on our Facebook page to see "behind-the-scenes" on the making of "The REALity Show."
Plus check out the condensed episode below.